I am happy to announce that the domain Pinup.com is now under exclusive contract with Maven Domains. The domain, originally registered in March 1995, offers the right buyer the ideal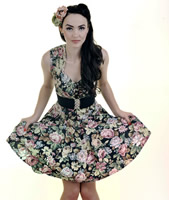 opportunity to take advantage of this Category Killer domain name.
The word Pinup is synonymous with the first 'Pinup' girl Bettie Page back in the 1940's-1950's. And it is this era which has spawned a very large and growing fashion sector which showcases the unique style and elegance of the 1940's-1950's.
The Pinup niche is massive within the fashion industry with in excess of 90,000/month exact match keyword searches for Pinup (Pin Up) related searches according to the Google Keyword Tool.
Pinup (Pin Up) and other fashion related keyword examples:
Pin Up: 246,000/month
Pinup: 45,000/month
Pinup girl clothing: 18,100/month
Pin Up dresses: 8,100/month
Pinup couture: 4,400/month
Pin Up lingerie: 2,400/month
Pinup.com also lends itself as a unique brandable domain with it being short, easy to spell and also passes the radio test. The modelling industry amongst others could make great use of this unique name, along with a host of social media services looking for a stand-out name in an ever competing and saturated online world.
List of potential uses for Pinup.com
Pinup clothing niche
Modelling and beauty niche
Generic fashion niches
Location & mapping niche. The word 'Pin' is used as in 'to pin a location.'
Social Media branding
Architecture: The term 'Pin Up' is used in architecture school. It's something done before a final presentation to a client or professor. You do a final 'Pin Up' where you put all your pictures/drawings up on a wall. It's like a final review or a work in progress.
Security – The use of a security 4-digit 'Pin' on credit and store cards is still high profile. Pinup would act as a great brand for a company like Visa e.g. 'Make sure and be secure, 'Pin Up' your credit card today.'
If you are interested in purchasing Pinup.com then please contact Paul today on 0044 1753 681367 or on email at paul(at)mavendomains.com