My name is Paul Haughney and I act as the Principal Broker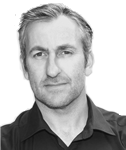 for domain name sales and acquisitions. I'm UK based but originally from a small village, Leighlinbridge, in the south east of Ireland.
The concept behind the MavenDomains brokerage is to provide a jargon-free personalized service to clients who wish to sell their premium domain(s) or who need a broker to help acquire a domain name. And my new domain name consulting service provides you with a naming service where I can help you come up with a selection of new names for your new or existing business venture, and also help to acquire the equivalent domain name.
I treat each and every domain name sale as if it were one of my own and ensure that I use 'every trick in the book' to find and contact the main decision makers to achieve a high sales conversion rate.
If you'd like help to sell your premium domain(s) and/or would like help in acquiring a domain for investment or business then please feel free to get in touch for a 'jargon-free' friendly chat.
My direct contact details are:
Email: paul@mavendomains.com
Phone: +353 (0) 83 4246262
Skype: paul.haughney